will try to add pic of valve showing numbers...maybe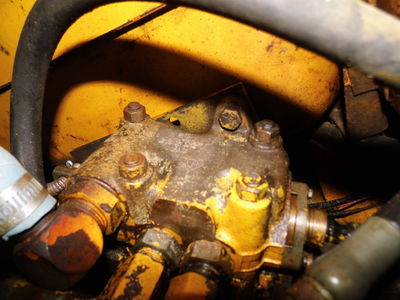 http://jdcrawlers.lcent.com:8000/johnde ... NY0205.JPG
http://jdcrawlers.lcent.com:8000/johnde ... NY0205.JPG
http://jdcrawlers.lcent.com:8000/johnde ... NY0205.JPG
---
well,
hydraulic shop says can test the pressure relief if i take the whole valve assembly in....just wonder what kind of mess that will make with 12 hoses!!
gonna have to mark each to make sure where supposed to go for sure.....if i can even get to some of these blame things..

well gotta do it

got her off and will check with shop..probly some dough involved and hurry and wait!!! left one hose hooked up big use fitting from /to reservoir in way will see
---
We'll the good news is that the 3spool.....VICKERS.. valve checks out o.k. relief checks out to 2500....checking to see if smaller available....
guess that means my pump needs attentions !!!!!
so clean up and attach spaghetti back, in order!...by the way test cost was $63, but got 3 new hose fittings, with swivel nuts.....free
---
Definitely need to do something to reduce that, along with fixing the pump, not good for the system to be able to run at over double the design limit. If there is no cartridge available to go into your control valve; you may be able to get a stand alone adjustable relief valve, and plumb it into the pressure line from the pump, ahead of your control valve. Add to the spaghetti.
---
well for time being with pump pushing 600psi surely can't hurt till i get other pump.....by the way what pressure do the cam pumps push?
---
I believe you mentioned in an earlier post that the relief setting was supposed to be 1040 psi to 1080 psi at a fast idle, from your book. A good pump would do that much and more I expect. Lavoy or Stan have likely seen how much higher they can push and can answer that question better. Lavoy said it would be good if you could get a 1050 psi cartridge relief, if they make that rating. The Vickers manual I found read like they go from 500 psi to 3000 psi in 250 psi steps for their cartridge relief valves.
---
thats what i am hoping the shop will come up with, i told him to check out what he can get for that valve, but they close at 4pm and aint open on weekends at all and yes i want to hold it max at1080 or so whatever numbers will do it. that way if i ever have to get a different pump it is protected ..
just kinda curious as to what those pumps do put out
---
The pump must have been capable of more than 1080 psi or the main relief wouldn't be that much. As far as how much pressure a cam pump in excellent condition could develop before it blows the seals or splits the housing, I can't tell you.

Here is what I found in my 420/430 service manual for the cam pump capacity (supposed to be the same pump as the 440IC) in the section on the hydraulic pump, similar might be in your manual:

"The pump is self priming and has a capacity of approximately 8 gallons per minute when operating at rated engine speed (1850 rpm) and 800 psi."

The 440 hydraulic system pressure is apparently higher than the 420/430s from what you posted. I don't know if the pump will still do 8 gpm at 1080 psi, it might or it might be a bit less.

As far as the Vickers replacement relief cartridge if they can't do a setting between the 1040 psi and the 1080 psi I would go with the 1000 psi cartridge before adding the external adjustable relief valve they talk about in the Vickers manual, if it were mine. You might find you have to change a section of your valve body to have the extra port to put that added relief valve in.
---
350 crawler

Posts: 2328
Joined: Fri Jul 15, 2005 3:13 pm
Location: Raleigh, NC
Hi,

Yes, that is correct. The 420/430/440IC used the same cam-driven gear pump. The issue with too high a relief valve setting is it will distort the pump in some manner. The gears and housing all have little clearance by design and overpressure has to distort something. At which time the pump pressure drops due to increased clearances.

The real issue is that every time you come up against a cylinder stop while operating, the system overpressurizes and the bypass opens. On the original unit, the valve buzzes exactly like it was an electric warning buzzer. Now, I have not had the bypass on my 420c-III open while digging as it has enough chops to lift the machine up first, but I have had it open when I wound up going too far down in soft stuff.

With too high a bypass, I suspect a small amount of pump damage occurred whenever a cylinder hit the end point.

Stan
There's No Such Thing As A Cheap Crawler!

Have: '58 JD 420c 5-roller w/62 inside manual blade
Have: '78 JD350C w/6310 outside manual blade
Useta Have: '68 JD350, '51 Terratrac GT-25
Also Have: 1950 M, 2005 x495, 2008 5103 (now known as 5045D)
---
Overpressure a cam pump and you blow the center section.
Lavoy
Parts and restoration for antique and late model John Deere crawlers.
Owner and moderator
www.jdcrawlers.com
---
LAVOY,
am getting another cam pump for my jd440ic......am i gonna need a gasket ??, if so and you got em can you send me one and advise cost etc...or arevthey too nla?

also do i have too drain hydraulics to change the pump out...or will it just lose a bit? i know rad etc needs out too for clearance

thanks
---
I would pull the pump apart and check it out, nothing says it is any better than the one you are taking off unless it has already been gone through.
Lavoy
Parts and restoration for antique and late model John Deere crawlers.
Owner and moderator
www.jdcrawlers.com
---
Who is online
Users browsing this forum: No registered users and 2 guests