Good morning,
I see you changed the third photo and it is the loader ID tag now. I'm having brain cramp and not thinking of the name from what I see, someone will recognize it. You will likely be able to get more detail from it with some careful cleaning.
I marked up one of your photos to be sure we are looking at the same thing. You are correct on the clutch adjustment cam bolt. The hole you found is access to grease the throwout bearing. The operators manual says 2 shots with a grease gun every 75 operating hours.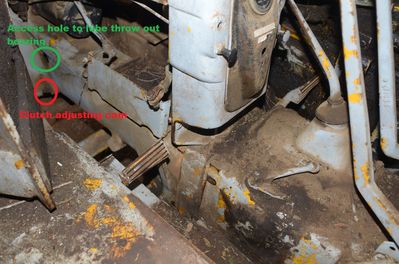 From looking at your photos the way the clutch pedal sets ahead of the brake it is likely that it is not traveling enough to release the clutch. As Lavoy said, getting the shafts freed up is the first step. How to succeed at that, with out a teardown, will be the challenge. Keep putting the penetrating oil to them. You should be able to get the footrest plates out of the way to have better access to the pedal shafts. One thing I think of that might be worth a try is an induction heater, like "Bolt Buster" or one of the "Induction Innovations" heaters. If you know someone who has one you might get them to try it. No open flame from an induction heater, not to say flames won't develop from the heat generated if "trash" contacts the hot parts. I imagine flame heat is a concern in your area. I can see using it on the brake pedal end of the shaft if you can get the pedal off the shaft. The clutch end of the shaft you would have to heat the clutch pedal at the shaft, as I don't think you can get it off without pulling the brake shaft. Hopefully others will have more ideas for you and correct something here if I misspoke.
If you have access to a bore scope you could go through the grease access hole and look at the pressure plate and throwout bearing. If pressure plate fingers or the throwout bearing are broke/worn away/gone it needs to come apart away and fixing the pedal shafts can be done then. Thinking about moving it to a better location to work on it; can you get it in gear at all when running? If not; If you start it in neutral and warm it up, shut it off, and put it in 1st or reverse gear, will it start in gear so you can move it on its own power? Keep trying, it will come.
Jim