I found out how to remove them with little effort. And better reading glasses. I fought them for a long time assuming the slot that goes around the bolt was just that. A slot. It is not and is more of a key hole shape to lock onto the bolt shoulder. I see that the clips pull the pressure plate metal disc up off the clutch fiber disc when the fingers are depressed. I am sure it probably makes no difference, but I would like to put them back when I am done adjusting.
Here is how to remove them easily. I used a long pair of bent nose needle nose pliers. Reaching in I got a grip on the clip side and pushed directly down towards the jam nut. This unhooked the clip from the bolt shoulder. I did the same thing on the opposite side and presto, it came off and did not even shoot across the shop.
Grip the clip here on each side and push down and pull towards you to get the clip off the bolt shoulder.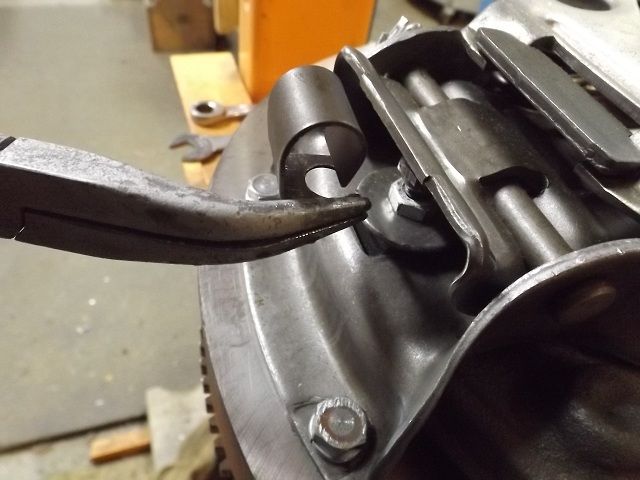 An upside down view showing why they don't just slide off the bolt. I could not see that even with a flashlight.
These are definitely spring steel.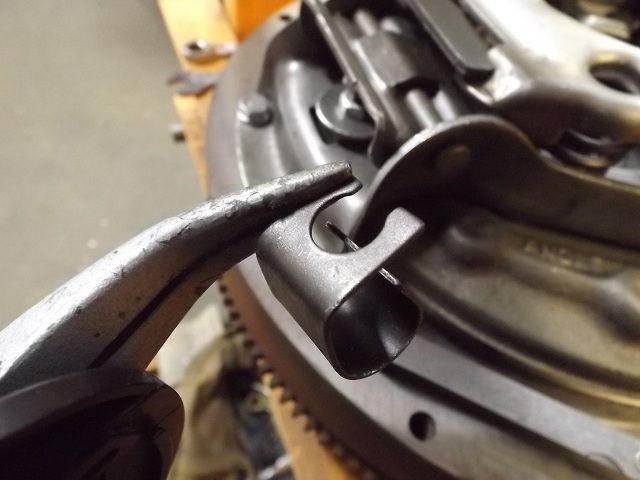 I appreciate the help. With the costs of these parts compared to a truck pressure plate, I did not want to mess it up.
And it seems my vision is heading south. My dad passed two years ago and was just about blind with Macular degeneration.
I am wondering how long I might have. I need good vision to be so darned A*** retentive.
Hope the pictures help someone else. Again thank you. This board is super.