I've had my 440 since 2004. Way back then I took the entire tractor apart except for the transmission and engine. Had many years of occasional service out of it. Hydraulics were always touchy though. Frequently lost suction at front pump and the valve was plain wore out...blade would drop without warning, had trouble fine adjusting it...old.
Last year the engine finally gave up and started knocking. Took it out and after quite a while with some setbacks now have it running great. Thanks to Lavoy for his help. Completely rebuilt now runs great, not using or leaking any oil...so nice to have a clean engine.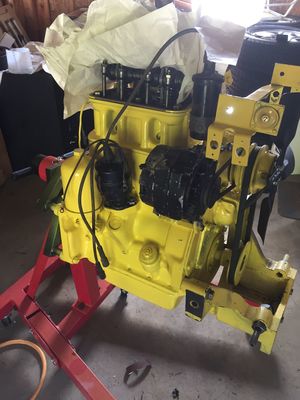 Part of my project was to fix the hydraulic system. As it was, I had tank on the fender which supplies a Prince PTO pump which drives a Ramsey wrecker winch. This tank holds about 8.5 gallons oil. I was never real happy with the sheet metal tank on the frame so I made a new one out of a piece of 6x8x18" tube. This tank fits nicely right where the other did and holds about 3.5 gallons oil. To keep the oil cool, these tanks are plumbed together. All together the system holds over 12 gallons of oil and never gets hot.
The suction line from the front tank goes to the pump. Here I had a machinist make a special adapter to go from 1" male pipe to the special thread on the hydraulic pump. From this fitting I used 2 90 and 1 45 degree elbows and then a 1" hydraulic hose for a suction line. The 1" fittings were tough to fit below the alternator (12 volt system) and behind the fan. It does clear though and worked out. I went with 1" as the 90 degree elbows were bound to create some heat...3/4" fittings would have probably been ok and much easier to work with.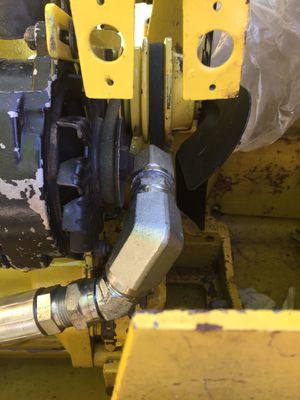 Pressure line goes to a dedicated pressure relief valve (which dumps into the front tank).
From the pressure relief it goes to a 2 spool joystick valve (Chief G series). Went with 2 spool for future power tilt.
From the valve the return line goes to filter then dumps into the fender tank. The bottom of this tank connects to the front tank. There is a guard for this filter but not in the pic.
The new system is really great. I can now precisely set the blade where I want it and it stays. Hopefully I will get around to building the power 6 way I want.
Hope the pics are helpful to someone.
Jack Hayden